The domestic automotive industry is a major contributor to South African GDP (6.8% as of 2020), providing employment to more than 100,000 people and indirectly benefitting 1.5 million South Africans. In 2020, 326,400 new passenger vehicles were sold, down from 511,000 vehicles from the previous year in response to the Covid-19 pandemic. Factory closure and reduced foot-traffic through dealerships are the primary cause of the decrease in domestic sales. Domestic sales are forecast to recover through 2021 and 2022, primarily supplemented through increased imports of international brands such as Hyundai.
Electric Vehicles (EV) are slowly being integrated into the market and are set to become key competitors to internal combustion engine (ICE) vehicles by 2030. While most manufacturers stated the aim to increase the production EV models, several went a step further by planning to go completely electric by 2035, with the earliest pure electric production by 2025 as outlined in table 1.
Table 1 – Global Manufacturers move to all Electric Production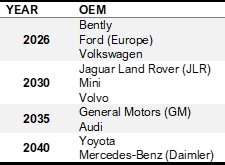 South Africa is home to eight OEMs (Original Equipment Manufacturers) (Figure 1), each manufactures only a certain models in their factories as outlined in table 2.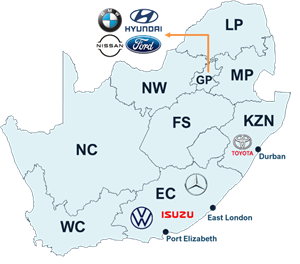 Figure 1 – Location of Domestic Manufacturers
Table 2 – Locally Manufactured PVs (including Bakkies) and LCVs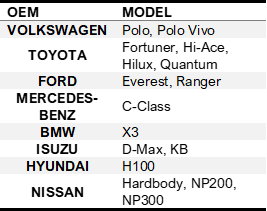 Locally produced vehicles reached 605,000 PVs in 2019, of which nearly 65% was exported to the international markets. As seen in figure 2, Volkswagen and Toyota dominate local production, followed by Ford, Mercedes-Benz and BMW.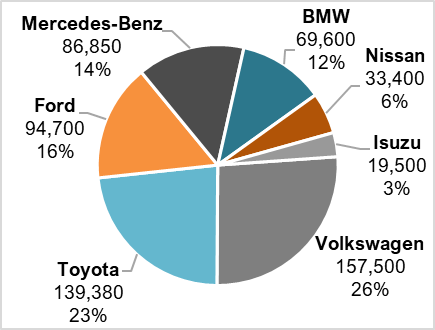 Figure 2 – Locally Produced PV Models by Brand, 2019
As previously mentioned, domestic sales of PVs dropped from 2019 to 2020 due to the pandemic. Sales in 2019 were dominated by OEMs manufactured vehicles that were assembled locally as indicated in figure 3. OEMs that manufacture vehicles locally are all in the top 10 leading brands in South Africa with the exception of BMW for 2019. Other mainly import-focused OEMs in the top 10 include Hyundai, Renault and Kia.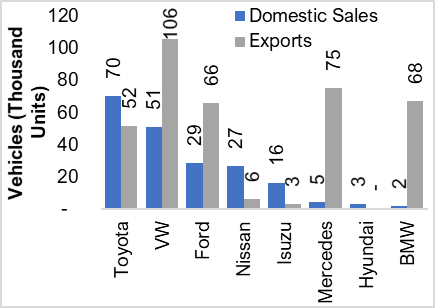 Figure 3 – Domestic PV sales of locally manufactured Models by OEM as listed in Table 1, 2019
Domestic sales are expected to remain at this split for the foreseeable future. None of the major local OEMs have changed their stance on whether they will continue to produce vehicles in South Africa over the course of the next decade.
Trends of the Industry
However, the nature of vehicles and their uses is changing. Vehicles are becoming increasingly Connected, Autonomous, Shared and Electric (CASE). The entire domestic value chain from small scale suppliers to the financial sector responsible in providing an enabling environment needs to recognize the evolution of electric vehicles. The progress made between the automotive industry and South Africa's government on the automotive policies is a testament to the enormous opportunity that is the local automotive industry.
Research has shown that South African consumers are increasingly searching for available electric vehicle models online, including those that are not yet available in the country. Could this be an indication that the country's middle class is ready for EV's to be supplied to the market? EVs such as BMW's i3, Jaguar's I-Pace and Porsche's Taycan are the better known EVs in the country, but competitors are looking to gain their share of the market by introducing cars such as the Mini Cooper SE, Audi's E-Tron, BMW's IX3 and Mercedes-Benz's EQC and EQS.
The EV market in South Africa faces several challenges that hamper the growth of the market, however, each challenge has an opportunity associated with it. First challenge is the lack of incentive for electric vehicles in South Africa. Import tax on ICE vehicles is 18%, whilst the tax on EV's is set at 25%. Increased subsidies from government have the potential to considerably offset the initial purchasing costs of EVs, talks that have already begun to take place between Janico and the South African government.
Another challenge is the availability of non-constrained charging stations. Despite the fact that the country has already deployed a high number of charging stations in major cities and highways, several of these stations operate on a constrained mode of 30 kWh instead of the standard 80 kWh. This can be handled by employing small-scale residential solar power (mini-grids), identify high capacity hot spots and the use of on-site battery energy storage systems.
A third and final challenge is the long waiting time for an EV, a challenge that is experienced on a global scale and caused by only one factor – limited battery production. South Africa, however, is uniquely positioned to establish itself as a key manufacturer and supplier of Lithium-Ion batteries (LIBs). Abundance of key metals in Africa, existing infrastructure and skilled workforce as well as supporting legislation and trade agreements place South Africa as one of the top locations for battery production. By leveraging the country's currently existing PV production and supply chain and by combining this with battery production, South Africa has the opportunity to establish itself as a key producer of EVs. Additionally, the nation's proximity to key EV building components such as "green aluminium" in Mozambique can further aid its development of EV production.
Patrick PresteleAuthor, Frost & Sullivan Africa

Lynne MartinMedia Contact, Frost & Sullivan Africa